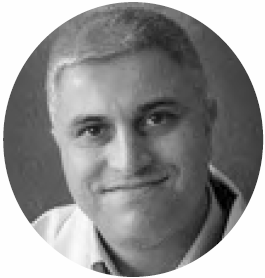 Prof. Ivailo Tournev
Riaditeľ kliniky neurológie Univerzitnej nemocnice Alexandrovska v Sofii, Zakladateľ a člen Správnej rady Národnej siete rómskych zdravotných mediátorov
Prof. Ivailo Tournev je riaditeľom kliniky neurológie Univerzitnej nemocnice Alexandrovska v Sofii. Je tiež profesorom fakulty neurológie na Sofijskej lekárskej univerzite (Sofia Medical University) a vedúcim fakulty kognitívnych vied na Novej bulharskej univerzite (New Bulgarian University). Vedie tím, ktorý opísal 12 nových dedičných ochorení. Je predsedom Bulharskej spoločnosti neuro-muskulárnych ochorení (Bulgarian Neuromuscular Disorders Society), predsedom Nadácie pre zdravotné problémy etnických menšín (Ethnic Minorities Health Problems Foundation) a členom Správnej rady Národnej siete rómskych zdravotných mediátorov (National Network of Roma Health Mediators), Je aj členom Národnej rady etnickej a integračnej problematiky v Bulharsku (National Council on Ethnic and Integration Issues in Bulgaria). Je expertom WHO na oblasť rómskeho zdravia. Profesor Tournev je hlavným výskumníkom 50 výskumných projektov a vedúcim tímov 40 sociálnych projektov, ktoré sa týkajú témy rómskeho zdravia. Napísal viac než 250 vedeckých textov- 100 z nich bolo publikovaných vo vedeckých publikáciách.
Oblasti dedičných chorôb rómskej populácie sa venuje viac než 20 rokov. Navštívil viac než 2500 miest a obcí v Bulharsku, ktoré majú rómske časti. Zorganizoval a zrealizoval mnoho programov zameraných na prevenciu a zdravotné vzdelávanie v rómskych komunitách. Podporuje aktivity rómskych neziskových organizácií. Od roku 2001 vyvíja koncept Rómskych zdravotných mediátorov a vyvinul aj program pre ich zaškolenie a tréning. Vyškolil 190 rómskych zdravotných mediátorov, ktorí v súčasnosti pracujú v 105 lokalitách v Bulharsku.
Pre Ministerstvo zdravotníctva vyvinul Program a Akčný plán na prevenciu a včasné diagnostikovanie tuberkulózy, kardiovaskulárnych, onkologických a dedičných ochorení u zraniteľných etnických skupín. Zorganizoval štúdie prevencie a testy s mobilnými jednotkami v rómskych štvrtiach. Podporil vzdelávanie 106 rómskych študentov v zdravotných disciplínach, ktorí študujú na zdravotných univerzitách v Bulharsku.