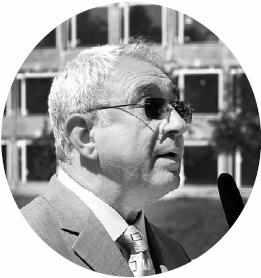 Gheorghe Raducanu
Prezident Európskeho fóra Rómov a kočovníkov
Pán Gheorghe Raducanu sa narodil v Rumunsku 14. júla 1951. Titul magistra získal v oblasti Európskych verejných inštitúcií na Národnej škole politických a administratívnych štúdií v Rumunsku. V roku 1990 sa pán Raducanu stal prvým Rómom zvoleným do rumunského parlamentu.
Georghe Raducanu je zakladajúcim členom "Partida Romilor PRO-EUROPA" (1990)- najväčšej rómskej politickej strany v Rumunsku. Je tiež jedným zo zakladateľov mnohých organizácií a komisií, napríklad: Romani Criss, Federácia etnických Rómov v Rumunsku (Federation of Ethnic Roma in Romania), Únia Rómov (Union of Roma), Komisia expertov na Rómov a kočovníkov (MG-S-ROM) (Committee of Experts on Roma and Travellers), Európskeho fóra Rómov a kočovníkov (ERTF) (European Roma and Travellers Forum), Fóra európskej rómskej mládeže FERYP (Forum of European Roma Young People), a iné.
V rámci politickej  kariéry zastával Gheorge Radacanu niekoľko postov. V rokoch 1990 – 1992 a 1992 – 1996 bol členom parlamentu, v rokoch 1993 – 1996 predsedom parlamentnej skupiny a člen Stáleho úradu rumunského parlamentu. Zastával pozíciu Parlamentného experta na oblasť ľudských práv na úrade rumunského prezidenta (2001-2005). V rokoch 2009-2010 pôsobil ako Honorárny ambasádor v oblasti rómskej problematiky a osobný poradca ministra zahraničných vecí v oblasti rómskej problematiky. V roku 2013 zastával funkciu štátneho radcu na úrade premiéra. Gheorghe Raducane bol zvolený za prezidenta Európskeho fóra Rómov a kočovníkov 18. novembra 2014 na valnom zhromaždení v Štrasburgu.