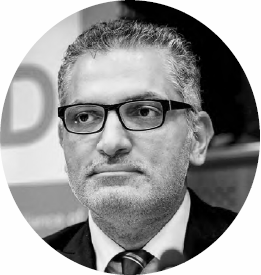 Damian Draghici
Člen Európskeho parlamentu (Skupina progresívnej aliancie socialistov a demokratov v Európskom parlamente), hudobník
Damian Draghici sa narodil v Bukurešti 31. marca 1970 v rómskej rodine, ktorej známa muzikálna história siaha najmenej sedem generácií do minulosti. Damian Draghici je členom Európskeho parlamentu (pôsobí v Skupine progresívnej aliancie socialistov a demokratov v Európskom parlamente), je aj bývalým senátorom v rumunskom parlamente, ako aj bývalým poradcom rumunského premiéra v otázkach rómskej problematiky.
Pred vstupom do politiky viedol Damian Draghici medzinárodnú hudobnú kariéru a stal sa jedným z najúspešnejších rumunských umelcov. V roku 1996 sa prihlásil na prestížnu Berklee College of Music (Boston, USA), kde získal plné štipendium a štvorročný program absolvoval iba za niečo vyše jedného roka s vyznamenaním Magna cum Laude v jazzovom vystúpení a bakalárskym titulom v odbore panova flauta. Stal sa teda prvým rumunským občanom, ktorý ukončil štúdium na Berklee College of Music.
Ako hudobník s viac než 20 nahranými albumami sa Damian Draghici stal medzinárodne známym umelcom, ktorý získal prestížne ocenenia a vystupoval s prominentnými umelcami v tých najznámejších koncertných sálach.